Darting Hat Trick
Darting Hat Trick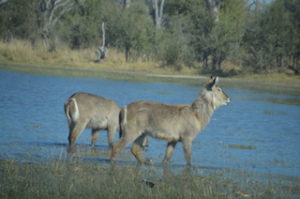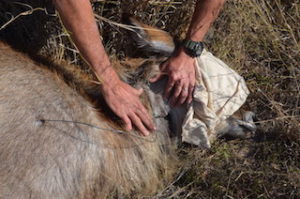 With the continuing deterioration of the socio-economic situation in the country, we have seen an increase of snaring for bushmeat in and around the boundaries of Hwange National Park. Animals caught in snares are doomed to a terrible, slow, agonizing death. The following is a report from Paul and Stephanie de Montille from DART of a de-snaring hat trick they recently performed:
" One Friday in August, we were called to a fresh sighting of a snared Painted Dog. Because the snare was around its neck we wasted no time and rushed down with the Painted Dog Conservation guys and a Parks Ranger but unfortunately, we couldn't find the dog.
That night the rangers had to return to Main Camp but Stephanie and I decided to stay and spend the night in the area.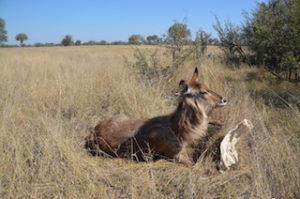 On Saturday morning we set off looking for the dog once again, but instead found and darted a snared waterbuck and removed a single strand steel wire from its neck. (We darted a  different waterbuck in that area 10-days previously). The snare had done some damage but the wound wasn't too serious and had already started to heal. Apart from the discomfort and danger it posed for the waterbuck, the trailing wire was shiny and easily visible which made it very upsetting for guests and tourists to see, so it was a pleasure for us to get it off.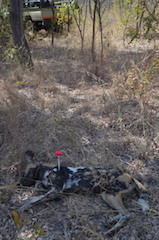 At lunch time we picked up a signal from the VHF tracking collar of one of the dogs in the pack we were searching for. The signal led us to a new den site where the dogs had young pups. There we found and darted the snared dog within the group.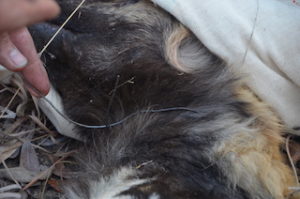 All went well with this immobilization and we removed a single strand steel wire snare with a long trailing wire from the dog's neck. The rest of the pack were watching us from the bush 50 metres away and they hurried over to greet the darted dog as soon as he recovered.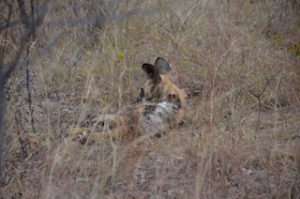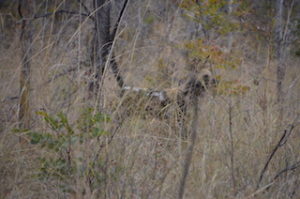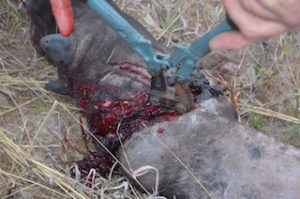 Finally to complete our snare removal "hat-trick" for the day we found a big buffalo bull with a terrible cable snare around his left back leg. He was in a very bad way and it took some time to cut the high tensile steel cable and to clean and treat the ghastly wound that was infested with maggots.
We should note that these wild animals are extremely resilient, and with the snares removed, we're confident that all three animals treated have a good chance at total recovery.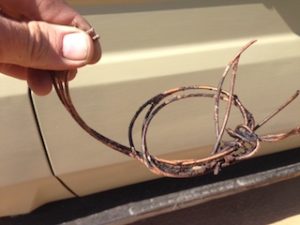 Many thanks to Friends of Hwange Trust and Hwange Conservation Society for the support to enable us to attend to animals in distress. "