Hwange at Easter – 2017
Hwange at Easter – 2017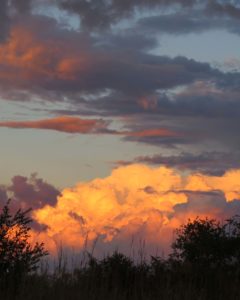 It was great having the opportunity to go to Hwange Main Camp over the Easter weekend. Having not been up since December and before the main rain had fallen, it was wonderful to see the park so lush and green with water still lying everywhere. Most of the natural pans were filled with grasses and sporting beautiful purple, pink or pale yellow water lillies.   On closer inspection, most of them also had bobbing heads of water birds and their young – several flotillas of white-faced and knob-billed ducklings as well as one lot of white-backed ducklings, red billed teal and little grebe chicks, three lesser moorhen chicks being overseen by a watchful mother, several African jacana chicks of varying ages, two fluffy Kittlitz's plover chicks being herded along the road by the parent birds near Nyamandhlovu, Egyptian geese with goslings and a few teenage spurwing geese were seen. All along the roads we came across coveys of game birds with varying aged young and the groups of helmeted helmeted Guineafowl we saw had also bred well with lots of young birds amongst the crowd. We have never seen so many Southern ground hornbills swanning around the open vleis. At Makwa there were at least six black-headed herons plodding about and although we saw several pairs of grey crowned crane, we only saw one youngster near Livingi. Food looks plentiful at last and the Acacia erioloba trees are absolutely LADEN with pods so we are sure that will be a big draw for the elephant herds later in the season.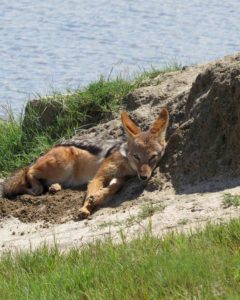 We spent our first full day driving down to Ngweshla. We had a rather uneventful trip down, passing a few giraffe, a big breeding herd of elephant in the forest just before the Sinanga turn off, several zebra and impala herds, watching two large bull elephants emerge from the tree line to munch away in the Kennedy vlei, one of which had an impressive set of tusks, and admiring a black backed jackal which had dug a comfy hole for itself at the K2 pan and was sleepily catching a few warm rays. The Ngweshla vlei was surprisingly quiet, with not much to be seen although a large herd of buffalo had apparently just moved off towards the Wilderness area. Finding out from other game viewers that the road through the Mangas had been fixed up and as we had wanted to check up on the water particularly at Manga One, we returned to Main Camp via the "back route", which has been fixed up and was pleasant going for a change. Again, we didn't see much apart from another big breeding herd of elephant but the water at Manga One is good and the solar units there doing their bit. Jambile waterhole has filled up nicely and people staying there over the weekend ended up having lion shambling around camp in amongst their tents during their last night! One of the solar unit pumps at Dopi was hit by lightning but was speedily repaired, and both units are doing a great job with the pans nice and full. We had heard that a leopard cub had been seen at Caterpillar in the morning but didn't expect it to be still hanging around as we arrived at Caterpillar in a bit of drizzly rain. To our great surprise, there was the young cub walking along the road and on seeing us, it went off into the grass on the side of the road. After coming very close to the vehicle and inspecting us with a yellow glare, it shambled off to take cover from the rain under one of the ebony trees. What a beautiful animal with a magnificent coat! We felt sure that it was waiting for its mother to return and although several other vehicles came and went, it didn't seem too perturbed. We were rewarded after about an hour when the cub started moving off towards the teak forest on the far side of the pan and we finally saw the mother wedged motionlessly in a tree, obviously having called to the youngster who was now bumbling through the long grass and weeds towards her. We soon lost sight of both of them but oh, my goodness, what a treat! Getting back to camp, we had an armada of eight giraffe sail past our lodge just on the other side of the fence, their long necks and heads silhouetted against the last of the evening light.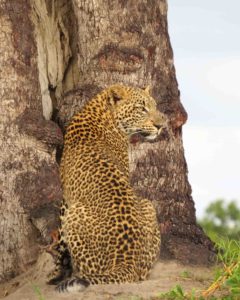 The following day we had another fairly uneventful morning driving down to Boss Long One. The new solar unit there is pumping into a small pan while the large natural pan at the back is full of water. Over a cup of coffee, we watched two combating giraffe having a necking session, a small herd of zebra with one very pregnant looking mamma and two black backed jackals loping around before settling down in the sun. On our way back just before the Nyamandhlovu turn off, we came across a lovely Roan female looking a bit nervous and only realised as she moved off that she had a very young calf with her – in the long grass, we could just make out the long ears bobbing along close behind her. At Nyamandhlovu there were always zebra, wildebeest and impala present as well as a growing herd of waterbuck, one of the dams had a really small baby that spent a lot of the time nursing. And we got to see an incredibly beautiful boomslang (if snakes can be "beautiful"!!) draped motionlessly in a batch of blue bush right next to the road. We also saw the Martial eagle on the nest near the turn off and she is obviously incubating at the moment. Along the loop road we came across the smallest baby steenbok we've ever seen, standing on wobbly legs in the middle of the road. We only had a fairly fleeting glimpse of it before a panicky mother shot out of the long grass and shepherded her youngster back into cover. In the afternoon we went down to Makwa in the hopes of seeing lionesses with half grown cubs that had been seen on and off over the previous few days but had no luck. According to one of the guides with his group of tourists, we apparently missed seeing a pack of 14 wild dogs seen at Sinanga where we had just been and seen nothing!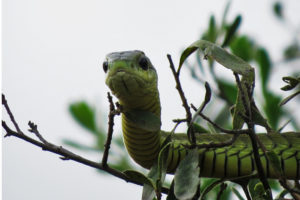 On Easter Monday we decided to go lion hunting again to see if those illusive lion would come to light. On our way through the gusu, a side-striped jackal ran along the road ahead of us for some way, obviously reluctant to go off into the long wet grass. In an open area just before Makwa, we came across a herd of sable with calves – one of which was very young – along with a small herd of zebra and two black backed jackals. Arriving at the main Makwa pans, we were greeted at the baboon spa as the primates sat in the early morning sun, preening and gleaning with rapt expressions on their faces while some of the youngsters got up to mischief. A couple of giraffe glided past as a large herd of impala came out of the scrub along with two wildebeest. A dainty mother warthog with two youngsters trotted across the road in front of us and later we saw a grumpy old boar with a HUGE set of tusks. One of the crocs was out on the bank sunning itself, the pans were bustling with waterbirds and game birds while a group of seven ground hornbills were perched at first in an old dead tree, having a good preen before setting off with their doop, doop, dooping around the place. The area was teeming with activity but….no lion! Not that we were disappointed – we had a brilliant and entertaining morning.   In the afternoon, we went along the Whitehills road to check out the water along that route. Mabuya Mabena was looking great and although the pan is fairly grassy, there was a lovely batch of waterbirds hustling and bustling. Again, we didn't see an awful lot but it was a very pleasant drive. We were sad to see that the Guvelala platform was once again in a tatty looking state with one of the doors ripped off. However, the pan was nice and full although devoid of any game and very little in the way of birdlife.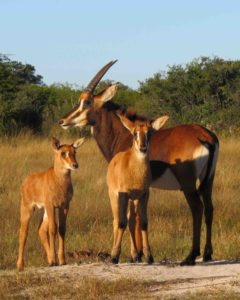 On our final morning, before packing up to return to Bulawayo, we took another drive down to Makwa. This time, the pan and surrounds were pretty empty of any game but we did have a honey badger scuttle across the road in front of us. While having coffee up in the platform, a small group of impala emerged reluctantly and took to standing on a high point, nervously looking about before finally settling down. We wondered if perhaps the dogs had been about with the lack of animals around. We thought we'd try our luck again and travelled back past Caterpillar and Dopi but saw nothing much except a duiker.
It was fabulous being back in the park and wonderful to see it so flush. We were astounded at all the youngsters we saw – both animals and birds. It was also great to see so many families with children enjoying the park, it being school holidays as well as Easter. There is still a lot of hard work going on in the background and once again, we should like to thank all the folks responsible for the sponsorship, donations and continued support.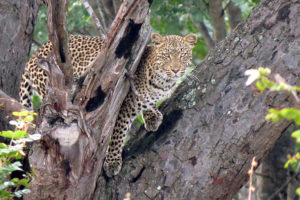 John and Jenny Brebner