For those that have not visited Hwange in the dry season, let us set the the scene:
Leafless trees stretch their branches to the cloudless sky in a silent plea.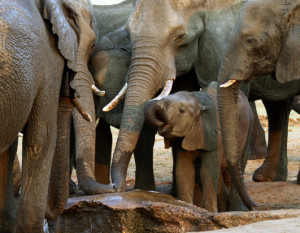 Stubby grass tufts and dry twigs crackle and snap underfoot. Carpets of crunchy leaves, red, orange and brown dance and whirl like mini dervishes in the wind. The heat at midday is breathless, when temperatures soar and even the birds stop their endless song and busy foraging for fat seeds and hapless insects. This is Hwange dry season.
Elephants dominate the pans and water holes. They are at the top of the drinking chain due to their size of course. They start arriving about midday, a flow of breeding herds, 20 or 30 in a group, endlessly coming …